The CAKE team have just returned home from DMEXCO after two full days of exhibiting and networking with clients, prospects and industry professionals. The Digital Marketing Exposition and Conference (DMEXCO), is Europe's largest digital marketing conference and is held every year in Cologne, Germany. Bringing together more than 50,000 attendees, 570 international speakers and 1,000 exhibitors, DMEXCO provided the opportunity for digital marketers to meet and discuss the emerging digital solutions and trends in the ad tech industry.
The CAKE team spent two days connecting with leaders, decision makers and influencers within the industry. It was also a great opportunity to catch-up with our ever-expanding client base. During the conference we picked up on a few key trends and valuable insights that we would like to share with you:
Optimising Data
Data seemed to be the buzzword for this event. Questions were raised as to how businesses can use data to create value for consume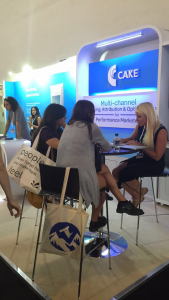 rs. We have transitioned into an era where capturing data is simple, but determining what to do with the data can prove to be relatively complex. Evaluating and applying data is vital in analysing how effective online campaigns have been, and in turn deciding what drives more ROI for your company.
Video
In the realms of social media, online live video has increased over the past few months and is predicted to further increase as we move into 2017. Video will experience incredible innovations and we are already seeing this trend implemented in platforms such as Facebook and Twitter. It is uncertain however, how the monetisation of live video will take place, but is something that is inevitable.
Internet of Emotions
In the world of ad tech it is vital to build brands people love and this is achieved through understanding human needs. Personal expression has become a new form of entertainment – which links to the previous comment about online live videos as most users who engage in live video have a desire to "go viral." This display of emotion is conveyed through technology and brands need to consider how technology alters human behaviour, this is something industry leaders are calling the "Internet of Emotions" and is an exciting element to keep an eye on.
Overall, DMEXCO equipped the team with a summary of the latest digital marketing discussions, and trends to watch for in 2017. It was also a great opportunity to catch up with existing clients and friends on the show floor, thanks to everyone who stopped by the CAKE booth, see you all next year!